Human Development Index (HDI)
Definition of the Human Development Index (HDI):
The
Human Development Index (HDI)
was developed by the United Nations to measure the quality of life in different countries.
Detailed Explanation:
Economists recognize that quality of life depends on more than average income. A person's quality of life also depends on health and opportunity. This problem has generated other indexes to calculate standard of living. Each index recognizes that income is just one of the variables that affect standard of living. The Human Development Index (HDI), published by the United Nations, is an index that measures the standard of living in different countries by combining life expectancy (used to measure quality of health care), educational attainment (used to measure economic opportunity), and income (used to measure standard of living).
The table below ranks the top ten countries using the HDI from 2014. This table includes only three of the wealthiest countries with the highest GDPs (the United States, Germany, and Canada). Six of the countries in the top ten for per capita GDP (Ireland, Australia, Denmark, Switzerland, the United States, and Norway) rank among the top ten of the HDI. New Zealand has the lowest per capita income of the top ten HDI countries, and it ranked 22 in per capita income. (Read
Gross Domestic Product – Measuring an Economy's Performance
for tables ranking GDP and per capita GDP.) The index has been criticized for not including environmental quality, public safety, and inequality issues related to race and gender.
Visit the
United Nations Web Site
if you would like to see the HDI for another country.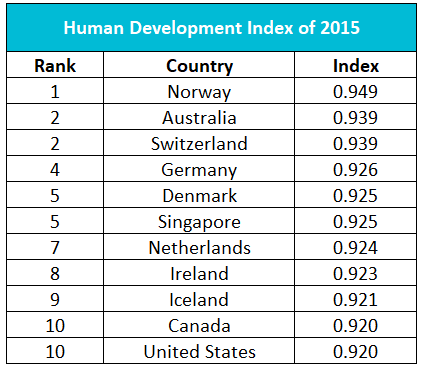 Source:
United Nations HDI
Dig Deeper With These Free Lessons:
Gross Domestic Product - Measuring an Economy's Performance