Franchise
Definition of a Franchise:
A
franchise
is a license agreement granting an owner (franchisee) the right to market a specific trademarked product or service.
Detailed Explanation:
What do McDonald's, Hampton Inn, Subway, Jiffy Lube, and H & R Block have in common? They are franchises. Franchises are a common way for businesses to expand into new markets and for entrepreneurs to open their own business. Dunkin' Brands, Inc. is the owner of the Dunkin' Donuts © franchise. An entrepreneur purchases the right to open a Dunkin' Donuts © store from Dunkin' Brands, Inc. Dunkin' Donuts is the franchise. The entrepreneur is the franchisee and Dunkin' Brands, Inc. is the franchisor. Dunkin' Brands, Inc. probably could not have opened over 10,000 Dunkin' Donuts © shops worldwide without selling its franchise to entrepreneurs.
What is the franchisee (entrepreneur) purchasing? Legally, the entrepreneur is purchasing the right to market a specific trademarked good or service. Many franchisors provide the exclusive right to own and operate the franchise within a geographical area.
The franchisees benefit from the brand name. The entrepreneur is also buying the expertise gained from a
proven track record and the lessons learned from other franchisees. These contribute to the franchisor's "formula for success".

Most franchisors have a marketing plan to develop brand recognition while cultivating a positive image. The consumer knows what to expect when visiting a franchise. This is accomplished by increasing the number of stores, having an advertising campaign aimed at promoting the image, and requiring franchisees to adhere to its guidelines. Guidelines may include selling uniform products, store cleanliness, a consistent décor, and requiring the staff to wear uniforms. For example, customers are confident a pepperoni pizza ordered at a Papa John's in one town will taste the same as a Papa John's © pepperoni pizza ordered in another town - even though the stores are owned by different individuals. A hotel chain may require that renovation plans be approved by the franchisor before a franchisee is permitted to proceed because the chain wants the ambiance of its hotels to be consistent. All franchisees benefit from these standards since they become part of the brand image. If a customer has a bad experience at Jon's Tofu in Topeka, she may be reluctant to visit Jon's Tofu in Buffalo. However, some franchisees may feel the restrictions prevent them from being creative or meeting the needs of a local market.
Franchisors offer extensive training. By leaning on the franchisor's experience and methodology, an entrepreneur is able to increase the chance of success. The franchisor's close review of a franchisee's operations can provide incentives (many franchises have competitions) while providing the franchisor feedback of what she is doing well and where she needs to improve. More importantly, guidance will be provided on how to improve. While owning a franchise is not a guarantee of success, having the support of the franchisor and other franchisees improves the odds.
How much does a franchise cost? The franchisor is paid in several ways. There is an upfront fee that can range from less than $10,000 to over $50,000. Entrepreneurs are normally responsible for most of the start-up costs. These costs range from a few thousand dollars to several million dollars. Franchisees also pay a royalty. Normally this is a percentage of sales. Royalties vary considerably and depend on the company and industry. Once the business is operational, the franchisor may require franchisees to purchase supplies from them.

Franchising is available in a wide variety of industries. The table below includes a sample of franchises in many industries and the cost to start a business. Follow the link to
Franchise Help
if you would like to learn more about a specific franchise. Data for the table was extracted on March, 17 2016 and is subject to change.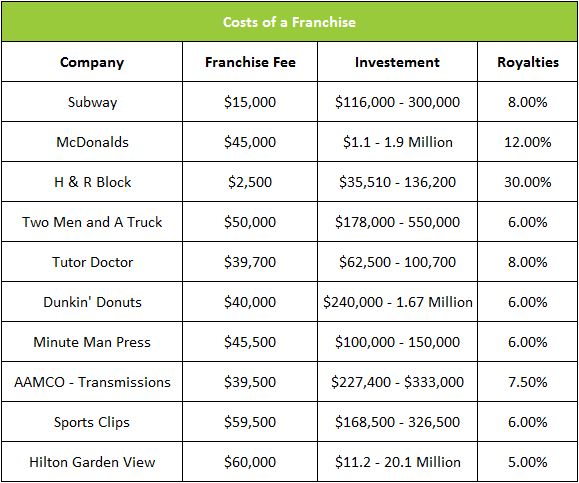 Source: https://www.franchisehelp.com/ March 17, 2016
Dig Deeper With These Free Lessons:
Entrepreneurs – Their Vital Role In The Economy