Why has the Down Jones Industrial Average Increased Significantly Under President Obama?
It is hard to believe the market may hit 20,000 soon! The Dow Jones Industrial Average has increased 150% since President Obama took office. On January 20 2009 the market index was 7,949.09. Yesterday it closed at 19,852.24. This is an average of 18.7%. Why has the increase been so great? Here are several reasons:
The US Stock Market had Already Suffered a Significant Drop When Obama had Taken Office
First, when President Obama took office the stock market had suffered a significant drop following the 2008 financial crisis. On inauguration day, the Dow suffered a 332.13 loss. Financial companies included in the Dow such as The Goldman Sachs Group (GS), had fallen from a 2008 high of $207.78 per share on February 1st, to a low of $52 on November 20th. On inauguration day, its price was $59.20. Yesterday GS closed at $243. General Electric (GE) had fallen from a 2008 high of $38.43 on April 1st to $12.93 by inauguration day. Yesterday it closed at $31.26. Even stocks in the Dow that were not in the financial industry were hit hard. For example, IBM's share price fell from a 2008 high of $130 on July 24th, to a low of $71.74 on November 20th. It had rebounded to only $81.98 by inauguration day. Since then it has increased to a closing price of $168.02 yesterday. These are examples illustrating how the market had fallen just prior to President Obama's inauguration, so many would say that there was nowhere to go but up. A useful site to find historical stock prices is
Yahoo Finance
.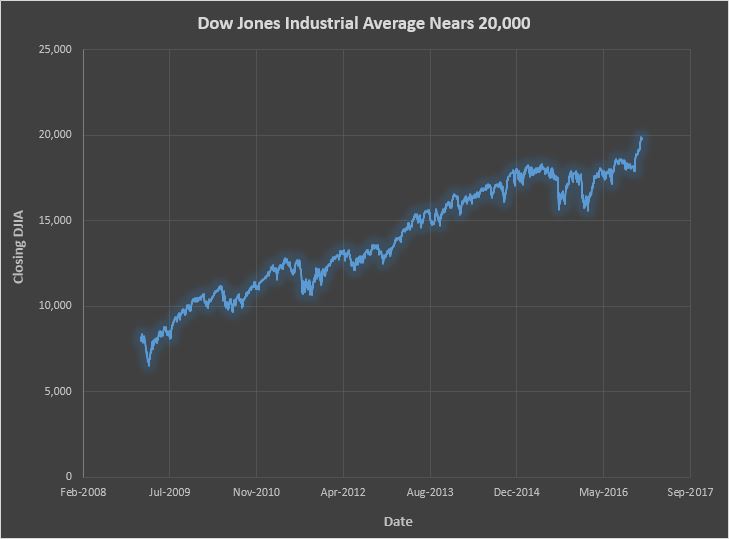 Source:
Google Finance

International Investors Believed in the US Economy
Second, the Great Recession impacted the world's economy. In Japan, the
Nikkei 225
was falling in 2008. The financial crisis added concern. It has since recovered, but only to levels seen in 2007. European markets also fell. Concern over the financial health of many European Union countries including Greece, Spain, and Ireland prevented indexes from appreciating in many European markets. Where should people invest? What is safe? The stronger European markets such as the DAX and FTSE have rebounded, but not as much as the Dow. One reason is international investors believed in the US economy and invested heavily here. The increase in demand pushed up stock prices. (For a lesson using the stock market to explain supply and demand visit our lesson,
Supply and Demand – Understand the Dynamics of the Stock Market
.)
Investors Were Correct to Believe in the US Economy
Third, investors were correct to believe in the US economy. Profits have increased dramatically during President Obama's terms. According to the
Federal Reserve Bank of St. Louis
, after tax corporate profits in the US have increased from $671.4 billion in the fourth quarter of 2008 to $1,693.6 billion in the third quarter of 2016. That is a 152% increase. It is not a coincidence that the index and corporate profits have both increased approximately the same amount. As mentioned in our lesson
Supply and Demand – Understand the Dynamics of the Stock Market
, expected future earnings drive stock prices.
The US Remains an Attractive Country for Entrepreneurs
Finally, the United States also remains one of the most attractive countries for
entrepreneurs
. Entrepreneurs need the following: Investment capital, low barriers to entry, growth prospects, a tax structure that rewards business risks, and a stable political environment. The US provides all of these. An article published January 20, 2016 in
U.S. News
by Deidre McPhillips ranked the United States as fourth.
Business Insider
ranks the U.S. at seventh.
So, where does the market go from here during a Trump administration? Sorry to disappoint you. I am not going to make any predictions. I will leave that to the experts. We have our problems, such as mounting debt. We will probably hit $20 trillion in debt before the end of the year. (Stay tuned, I plan to post a blog discussing this next week.) However, I am bullish because the US is one of the best places to do business. It has an enormous market, a legal system that protects private ownership, a highly educated labor force, and our leaders understand the importance of maintaining an economic climate conducive to growth.
Please forward this blog to economics teachers and students. All of our lessons are free. I suggest
Supply and Demand – Understand the Dynamics of the Stock Market
, and Entrepreneurs – Their Vital Role In The Economy.