Income and Outlays - February 2022
Increasing Income and Spending Did Not Keep Pace With Inflation.
In February, consumer spending weakened, indicating that consumers are becoming more cautious as rising prices reduce their buying power. The prices of necessities such as energy, food, and shelter were among the largest. Wages increased, but not enough to make up for the higher cost of living. After adjusting for inflation, disposable income (income available after paying taxes) decreased for the seventh straight month and reached its lowest level since March 2020. Households responded by dipping into their savings and saving less. February's savings rate remains near the lowest it has been in eight years.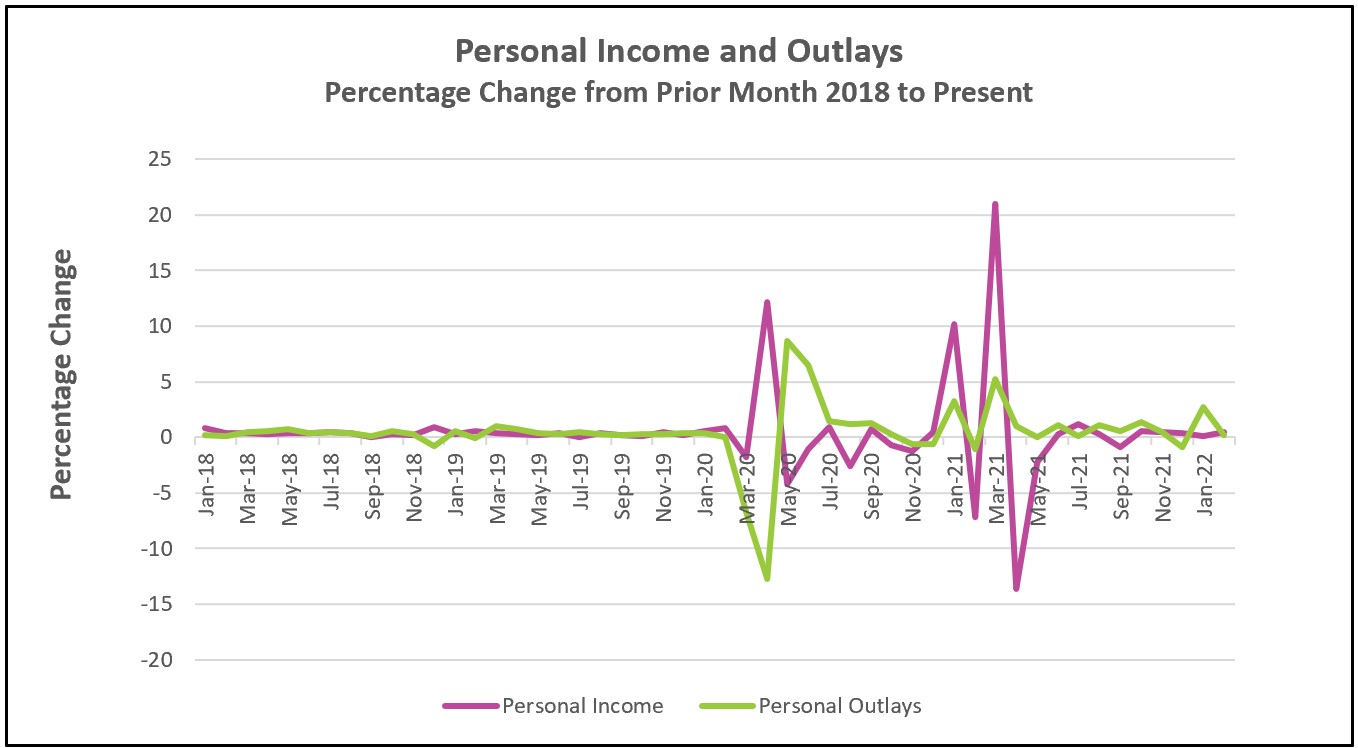 The Federal Reserve prefers the PCE price index to the more published consumer price index when setting its monetary policy. The significant gain in prices likely confirms larger future increases in interest rates, even after the Fed raised rates 0.25% earlier this month. Higher rates slow spending and the pressure on prices. Read the Bureau of Economic Analyses' full report Personal Income and Outlays – February 2022. The highlights are listed below.
The PCE price index has gained 6.3% since last February, the largest increase in 40 years. Prices rose 0.5% in February. The rate of increase for the prior 12 months has escalated or remained unchanged every month since November 2020.
The core PCE price index rose 0.4% in February and 5.4% over the prior 12 months.
Consumer spending rose 0.2% in February after increasing 2.1% in January.
Spending fell 0.4% after adjusting for inflation. Spending on durable goods fell 2.5% after surging 11.3% in January. Meanwhile, spending on services gained 0.9%.
Personal incomes increased 0.5%, but real disposable income fell 0.2%. Disposable income has fallen every month since February 2021 after being adjusted for inflation.
The savings rate rose from 6.1% to 6.3%, near its lowest rate since 2013.
Consumers switched from spending on goods to services, especially those such as dining out and travel, which were most impacted by the pandemic. Higher car prices and low inventories pushed automobile prices higher and sales lower making motor vehicles the most significant contributor to the fall in durable goods sales.
Most households were worse off in February than they were in January. A strong labor market has pushed up wages, but higher prices have consumed the additional income. Households have responded by cutting back on spending. Spending was lower in February after adjusting for inflation. And the situation will likely get worse before it improves. The BEA collected most of the data for its report before the Russian invasion of Ukraine. Prices of many commodities will continue to rise as the world economies deal with shortages of oil, natural gas, and many agricultural products.
In a separate release, the BEA lowered its estimate of GDP growth in the fourth quarter of 2021 from an annual rate of 7% to 6.9%. The primary reasons for the adjustment were lower consumer spending and fewer exports than initially reported.
The Bureau of Labor Statistics will release its Employment Summary on April 1. It will provide valuable insights into the labor market's strength and continued economic recovery. Check back to HigherRockEducation.org shortly after it is released for our summary and analysis.