Personal Income and Outlays – January 2023
Higher Incomes and Growth in Spending at Fire to Inflation
Good news is bad news when an increase in income and spending fuels inflation. Personal income rose sharply, reversing a trend that began in October. The added income encouraged consumers to increase their spending the most since March 2021. Each contributed to growth in the economy's aggregate demand and the largest surge in the price level since June, increasing the likelihood that policymakers at the Federal Reserve will continue to increase their benchmark rate longer and higher than initially expected.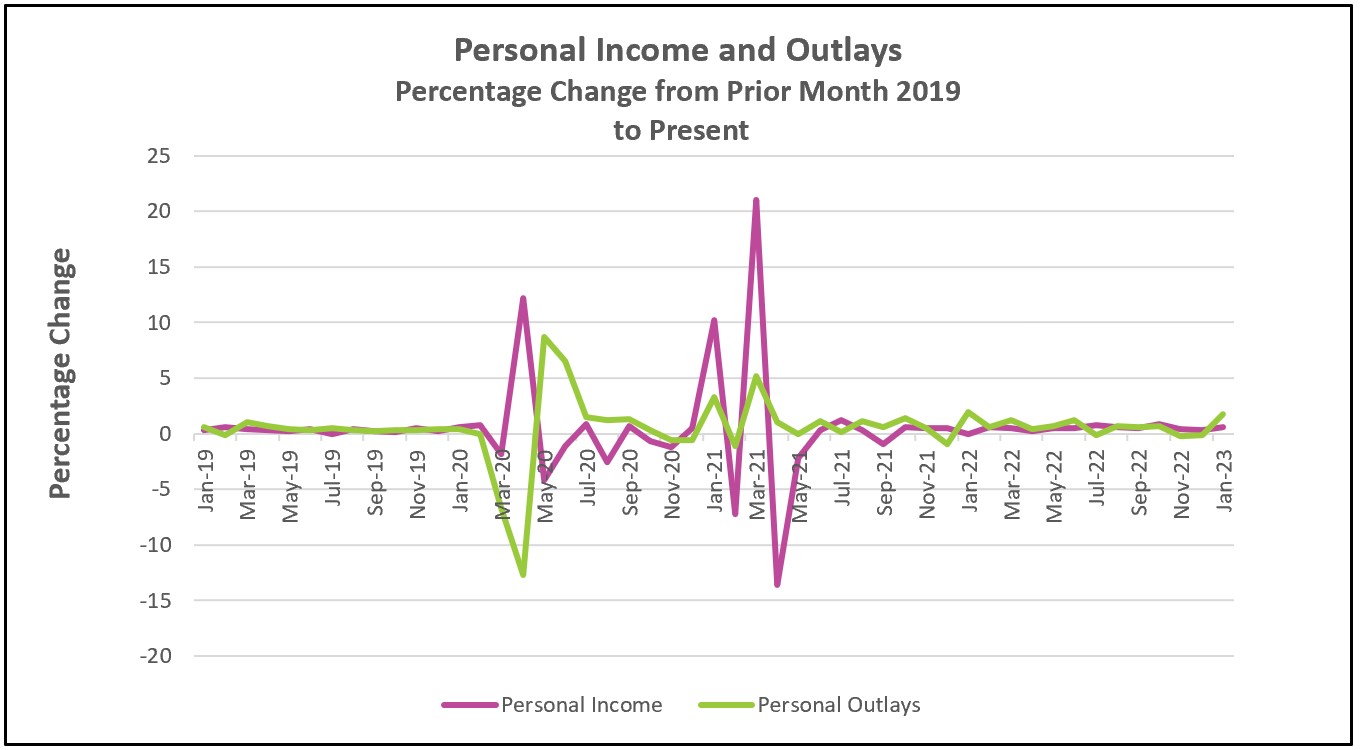 The highlights of the Bureau of Economic Analyses' full report, Personal Income and Outlays – January 2023, are listed below.
Prices, as measured by the PCE price index, increased 5.4% over the prior 12 months.

Prices increased 0.6% in January.

Core prices, which exclude food and energy, rose 4.7% over the prior 12 months.

January's core index increased 0.6%, the largest monthly increase since August 2022.

Personal income rose 0.6% in January. After-tax income increased 2.0%, the most since March 2021.

Consumer spending jumped 1.8%.
Current income and consumer spending trends are alarming because they suggest inflation will persist. As measured by the Fed's preferred index, inflation increased 5.4% in the last twelve months, reversing a recent easing of price increases. During 2021 most households' income did not keep pace with inflation, putting a real strain on many of their budgets. In 2022, a shortage of workers existed, and companies increased wages to attract and retain employees. While disposable personal income increased, it barely kept pace with inflation. However, in January, disposable personal income rose 1.4%. Social Security recipients benefited from an 8.7% cost-of-living adjustment. Wages rose 0.9%, the largest monthly gain since July, and more than twice the gain in October. January's increase in personal income was the largest since March 2021, when the Federal government issued personal checks to supplement people's income during the COVID-19 pandemic. The added income fueled an upturn in consumer spending, which rose 1.8% in January after falling 0.1% in December and 0.2% in November.
As with income, January's gain in consumer spending was the largest since March 2021, when consumers spent much of their stimulus checks. Aggregate demand rose and contributed to elevating the price level. Policymakers at the Federal Reserve increased interest rates eight times since March to restrain the economy's aggregate demand, slow spending, and relieve some inflationary pressure. During the last quarter, it appeared their strategy was working. Purchases of big-ticket items such as cars and homes slowed. Consumer spending fell in November and December. However, January's report revealed that an uptick in motor vehicle sales was one of the most significant contributors to the increase in consumer spending.
An economy with growing consumer spending, higher wages, and the lowest unemployment rate in over half a century is not conducive to lower inflation. While one month's report does not define the beginning of a trend, the recent increases in personal income and consumer spending demonstrate that inflationary forces are persistent, and inflation will likely remain above the Fed's 2% target longer than many analysts thought before this report. It will also increase the Federal Reserve's resolve to continue raising rates.
Economists have stressed the importance of slowing wage escalation to tame inflation because wage increases can drive demand-pull inflation by providing the money to buy more goods and services. Will a tight labor market continue to push incomes higher, making the policymaker's job to contain inflation more difficult? We will learn more when the Bureau of Labor Statistics releases The Employment Situation – February 2023 on March 10th. Check back to HigherRockEducation.org for our summary and analysis of this important data.