Personal Income and Outlays – May 2023
Consumer spending loses momentum, prices fall, but the Fed's preferred inflation gauge remains stubborn.
The BEA revised its growth estimate of the US economy's RGDP upward from 1.3% to 2.0%, demonstrating greater resilience and strength in the first quarter of this year. However, economists predict growth will slow in the second quarter after the ten rate increases by the Fed manifest themselves by cooling consumer spending. In this blog post, we will delve into the factors that have supported consumer spending, examine its recent loss of momentum, analyze inflation trends, and assess the potential impact of recent events on the economy.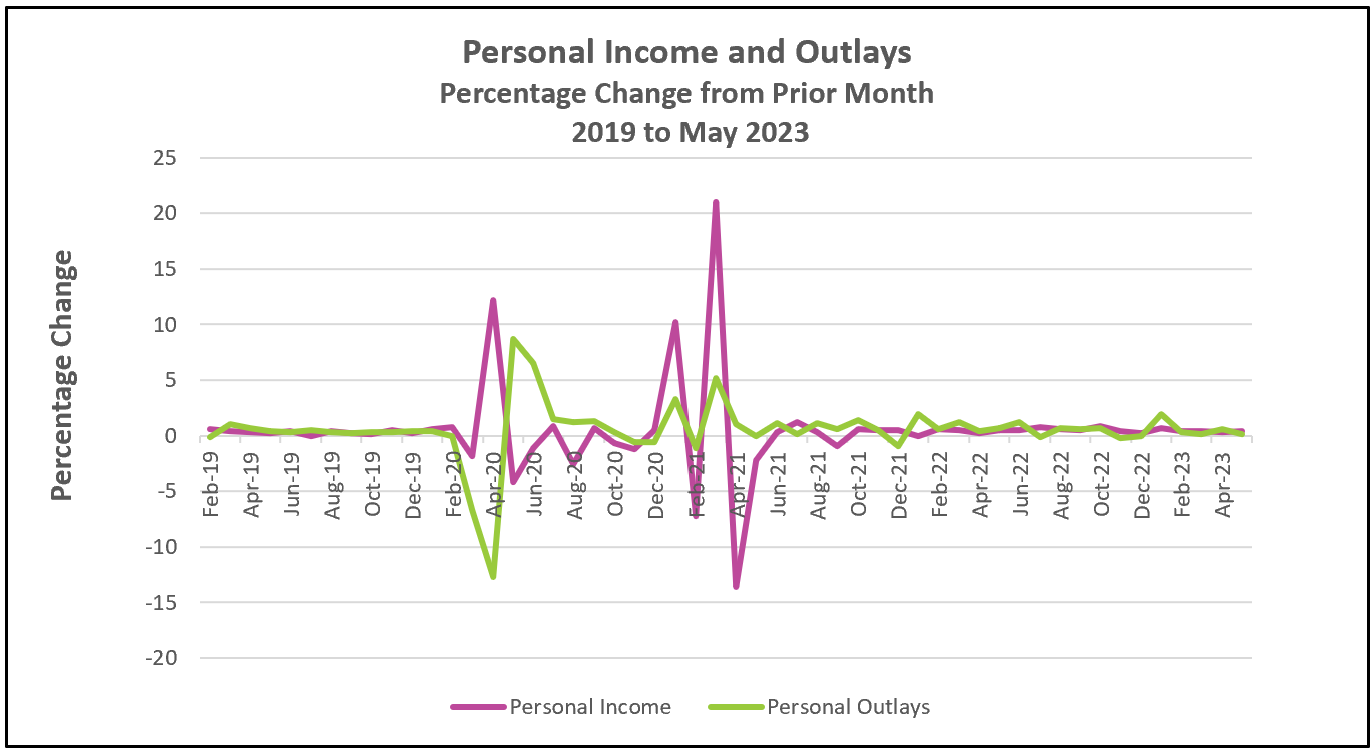 The highlights of the Bureau of Economic Analyses' full report, Personal Income and Outlays – May 2023, are listed below.
Prices, as measured by the PCE price index, increased 3.8% over the prior 12 months, the smallest increase since April 2021.
Prices increased 0.1% in May after rising 0.4% in April.
The 12-month core price index, which excludes food and energy, fell from 4.7% in April to 4.6% in May.
May's core index increased 0.4% after rising 0.3% in April.
Personal income rose 0.3% in May, up from 0.4% in April.
Inflation-adjusted disposable personal income rose 0.3% in May after falling 0.1% in April.
Consumer spending rose 0.1% in May after surging 0.6% in April.
Consumer spending was unchanged after adjusting for inflation.
The personal savings rate as a percentage of disposable income rose to 4.6% from 4.1%.
During the year's initial quarter, gains in income outpaced inflation, providing a solid foundation for continued growth in consumer spending. This situation gave individuals more disposable income, contributing to the economy's overall strength. However, there are signs that consumer spending is losing momentum. After adjusting for inflation, consumer spending experienced a decline of less than 1.0% in May. The decrease in spending on goods outweighed the modest increase in spending on services, raising concerns about a potential slowdown. A higher savings rate hints that consumers are growing more cautious, potentially hindering future spending.
A recent Supreme Court ruling blocking President Biden's debt forgiveness plan for student loans could strain some families financially and dampen consumer spending. The full impact of this ruling will likely be felt later in the summer when loan payments resume.
A drop in consumer spending is typically bad news because it precedes a slowing economy. But policymakers at the Federal Reserve will likely welcome the slowdown. The strength of consumer spending has emboldened businesses to raise prices, contributing to higher inflation rates. May's inflation showed some cooling, primarily due to lower gasoline prices. But inflation remains too high. The core indexes, which economists prefer because they exclude volatile energy and food prices, have changed little since the beginning of the year, despite the Federal Reserve's rate increases.
The Federal Reserve closely monitors the prices of services, excluding energy and housing, as labor costs significantly impact this sector. Recent data indicates that price increases in this category have slowed, with a rise of 3.9% over the past three months, compared to 5.3% in the preceding three months, according to The Wall Street Journal.
Consumer spending drives the US economy, contributing approximately 70% of economic activity. Reduced consumer spending eases inflationary pressures. However, income provides the means for consumers to spend, so trends in income will directly impact spending. The Bureau of Labor Statistics will release The Employment Situation – June 2023 on July 7th. This report will provide valuable insights into trends in the labor market. Keep an eye on HigherRockEducation.org for our summary and analysis shortly after it is released.