Inflation – January 2022


Inflation Reaches Highest Level in 40 Years
Inflation diminished slightly between January and December, but not enough to prevent inflation from reaching a 40 year high for the prior 12 months. Price increases were broad-based, suggesting that the problem is longer-term than initially anticipated and heightening expectations that the Federal Reserve will increase interest rates in their March meeting.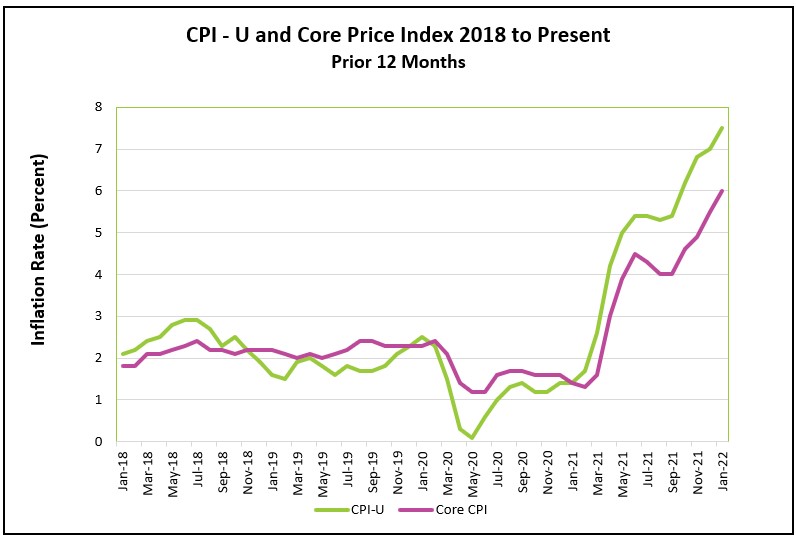 The Bureau of Labor Statistics' full report at Consumer Price Index – January 2022. The report's highlights are summarized below.
The all-inclusive consumer price index rose 0.6% in January, after increasing 0.5% in December.
Inflation for the prior 12 months equaled 7.5%, the largest increase in 40 years, and follows a 7.0% rise for 2021.
January's core index, which excludes food and energy prices, rose 0.6% for the second straight month.
Over the prior 12 months, the core index increased 6.0%, up from 5.5% in 2021 and the highest rate since 1982.
Price gains were broad-based, including food, shelter, and electricity. All food rose 0.9%, electricity was up 4.2%, and the shelter index was 0.3% higher.
An overheated economy is fueling inflation. The rebound from the pandemic has been remarkable. Rapid economic growth driven by enormous fiscal spending bolstered demand by replacing lost income. But the pandemic prevented producers from keeping pace. Labor shortages have forced companies to hire and increase wages. Input shortages and distribution bottlenecks have delayed getting finished products to the market. In response, producers have raised prices to slow demand and offset their higher costs. Consumers have accepted the price increases, and they are also demanding higher wages. But, the wage increases have not kept pace with inflation and reduced American families' disposable income.
Inflation impacts every household differently. Used car prices are up over 40% since last year and have contributed significantly to the inflation rate in the past six months. But, price increases in used cars only affect households that purchase a used car. Increases in the price of food, energy, and shelter affect all of us and reveal the hardship endured by the typical American household.
The table below illustrates how many everyday items have become more expensive than wage gains. The Bureau of Labor Statistics reported that wages increased 0.7% in January and 5.7% over the prior 12 months. Inflation has exceeded wage gains for ten straight months. Comparing the increase in wages with the inflation rates of several necessities shows why so many families are hurt by inflation today. For example, food at home rose 1.0% in January and 7.4% in the past year. Every category except rent increased more than wages. (January's rent increase was the highest since May 2001.)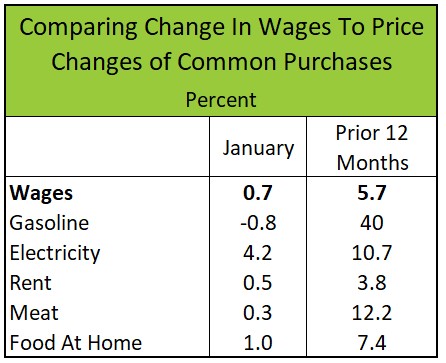 Barring another disruption from a new COVID variant, inflationary pressures will gradually diminish in the next few months as more people return to work and supply chains are improved. The Federal Reserve will begin tightening its monetary policy by increasing its federal funds rate. A higher rate reduces inflationary pressure by lessening the demand for big-ticket items such as homes and cars. However, inflation will unlikely return to the Federal Reserve's 2% target soon. Price increases have become too widespread and accepted.
We will get our first look at the US economy's growth in the first quarter when the BEA releases Personal Income and Outlays, January on February 25th. Check back to HigherRockEducation.org shortly after its release for our summary and analysis.