Inflation – January 2023
Annual CPI Falls Despite Higher Prices in January
The 12-month index fell for the seventh consecutive month, and the 12-month core index has also been trending lower. However, the downward momentum slowed because businesses resolved many supply challenges that triggered inflation early in 2022. However, some downward momentum was lost in January. The monthly all-inclusive index had fallen for three consecutive months before increasing in January. Prices for durable goods fell in January but not as much as in October, November, or December. The smaller decrease in durable goods and higher prices for services, shelter, and gasoline pushed the monthly rate higher. This report, combined with a strong employment report, increases the likelihood that policymakers at the Federal Reserve will increase rates again in March.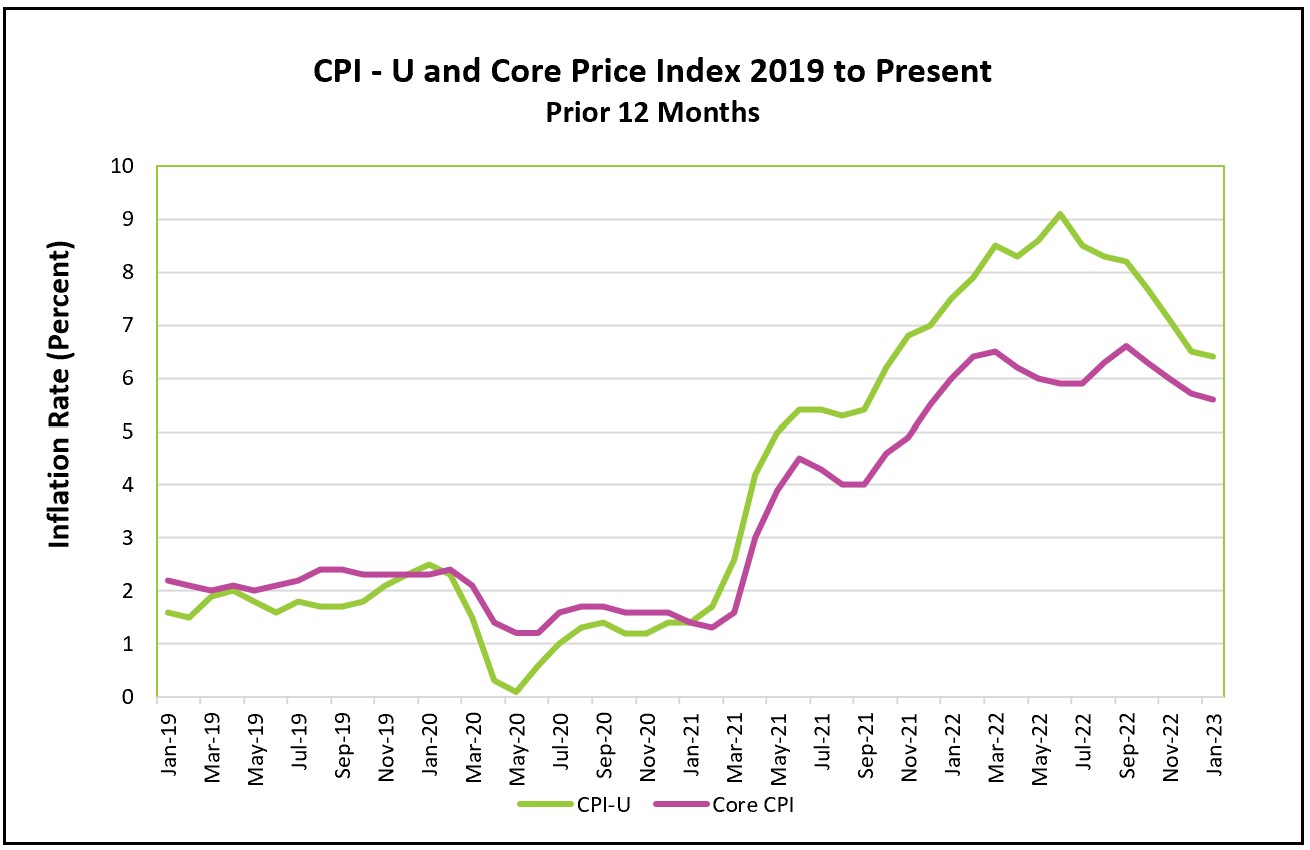 The highlights and analysis of the Bureau of Labor Statistics press release, Consumer Price Index – January 2023, are summarized below.
January's prices increased 0.5%, reversing a trend of three straight months of slowing price increases.
January's core price index, which excludes food and energy, rose 0.4%, the same as in December.
When calculated for the prior 12 months, inflation continued to subside, increasing by 6.4%, the smallest increase since October 2021.
The 12-month core price index rose 5.6%, down from 5.7% in December, and the fourth consecutive month of reduced increases.
The shelter index, which shot up 0.7%, was the largest contributor to the monthly all-inclusive CPI.
Durable goods prices fell 0.1% in January, while service prices less energy services rose 0.5%.
Food prices increased 0.5% in January and 10.1% over the prior 12 months.
Energy prices rose 2.1% in January, led by gasoline prices which increased 3.2% (2.7% after being seasonally adjusted). Natural gas prices rose 6.7% in January.
The prices of necessities such as food, gas, and shelter increased more in January than wages, making it difficult for many households to budget their expenses. Inflation of food prices was trending lower between July and December, only to reverse course in January. Disinflation in gasoline occurred each month between October and December, until January when it rose sharply. January's shelter index fell by 0.1% but remained near its 20-year high.
Inflation surged in 2021 as the economy emerged from the government-imposed containment measures to constrain the spread of COVID-19. Demand-pull inflation was fueled by pent-up demand, low interest rates, and accumulated savings (FRED). Meanwhile, cost-push inflation resulted from supply chain challenges that prevented suppliers from meeting their demand. Recently, most of the supply chain problems have improved. Shipping backlogs have subsided. Freight companies have increased their capacity, and ocean shipping rates are below prepandemic levels. The improvement has eased cost-push inflation, which accounts for much of the disinflation since inflation peaked in June. These improvements explain much of the fall in the prices of durable goods. Some supply issues remain, such as disruptions caused by the war in Ukraine, which have increased crude and natural gas prices and reduced grain shipments.
However, disinflation in the service sector is needed to lower inflation. The index of services less energy remained relatively high. Policymakers are watching the labor market closely - especially wages. Wages usually are the largest expense for service companies. Wage increases can drive demand-pull inflation by providing the money to buy more goods and services. Earlier this month, the BLS reported that job openings continue to exceed the number of people willing to work. The unemployment rate fell to a 40+ year low, and employers added over 500,000 workers to their payrolls. Since June, wages have kept pace with inflation, although, in January, real hourly earnings fell 0.2%, the largest decrease since June 2022. (Bureau of Labor Statistics) The income gains and accumulated savings have exacerbated demand-pull inflation.
Policymakers at the Federal Reserve responded to the surge in prices by increasing its benchmark rate seven times from zero to 4.5%. Their objective is to slow demand-pull inflation by slowing the growth of the economy's aggregate demand. They succeeded. Growth in consumer spending has moderated for three consecutive months. In December, consumers spent 0.2% less than in November. However, policymakers acknowledge that more work is needed to bring inflation down to their 2% goal. That means additional rate hikes.
On February 24th, the Bureau of Economic Analysis will release Personal Income and Outlays – January 2023. Policymakers will pay particular attention to consumer spending, hoping gains will continue to moderate. They will also take note of the PCE price index, the price index favored by the Federal Reserve. The 12-month index, like the CPI, has been falling in recent months. Check back with HigherRockEducation.org shortly after its release for our summary and analysis.