Waziristan Pakistan and The Taliban
Waziristan is the region in Pakistan where the Taliban fled to during the War in Afghanistan. There the Taliban was sheltered by the mountains. The Pakistani military offensive, Operation Zarb-e-azb was highly successful in returning peace to the region. Our contributor lived in the region and paid a very heavy price. He writes of his hardships and what has happened since.
Gun shots, barbed wire, armed men patrolling the streets of Waziristan, security check points for vehicles, and body searches were essential everyday occurrences for several years. Curfews were commonplace. I grew accustomed to staying home, which prevented me from working since access to the Internet was also intermittent. Many days my children were unable to attend school. Worst of all, I lost my wife during terror attacks in our region. She was a Montessori teacher and the mother of our two children. Life has been tough for way too long, but there are many signs of improvement. I believe the hardship has made us stronger.

Waziristan is in the mountainous region of northwestern Pakistan. During the war in Afghanistan the Taliban fled across the border into Pakistan where they could hide and set up bases to attack American and Allied Forces in Afghanistan. I credit Operation Zarb-e-azb for the return to normalcy in Waziristan. Operation Zarb-e-azb was a military offensive conducted by our armed forces to curb the rise of violent extremism and terrorism in our region when the war in Afghanistan spilled over into Pakistan.

It is impossible to measure the emotional and economic hardships my family suffered. I lost my wife. My children lost several years of their childhood. We depended on my wife's income and my income was much less.

Pakistan's economy suffered too. PK Revolution concluded the War on Terrorism cost Pakistan $118 billion. Monetary costs included but were not limited to the loss of business, the cost of military operations, and caring for the large influx of Afghan refugees. Pakistan's real gross domestic product (RGDP) was gaining strength and growing at 4.26 percent in 2000, but collapsed to 1.98 percent during the war. See the graphs below. Exports fell because foreign businesses worried about Pakistani businesses being able to deliver. Government and business resources were diverted to the war effort.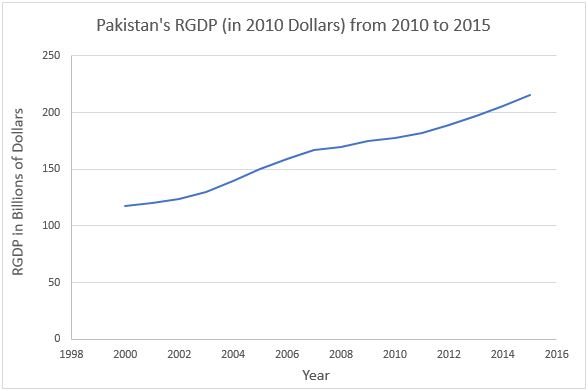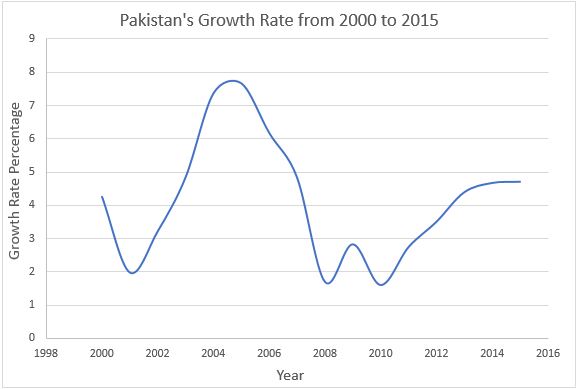 Operation Zarb-e-Azb has paid off. Our security has improved, so businesses are and investment capita is flowing into the region. The daily activity in our markets has returned to normal. Pakistan's real gross domestic product has accelerated every year since 2008. The World Bank estimates our economy grew 4.712 percent in 2015. My income has increased. Pakistan is also benefiting from an increase in government spending. The N League government seems adamant to prove its worth prior to the upcoming 2018 elections and thus the splurge in infrastructural development to give a boost to the economy.

Foreign investment has returned. Trading Economics reported, "Foreign Direct Investment in Pakistan has increased by 2761.10 USD Million in 2016. Foreign Direct Investment in Pakistan averaged 2651.26 USD Million from 2010 until 2016." China plans to invest $46 billion in upgrading Pakistan's infrastructure. (China's New Silk Road)

Some of us will never recover fully from the recent war on terrorism, but I am happy to say that much progress has been made. Our economy is prospering again. We live in relative peace. For the first time in a long time I am optimistic about my family's and country's future.