Monday evening Toys "R" Us, joined a large list of retailers that have filed for bankruptcy protection. Growth of the internet, a large debt load, and frightened suppliers all contributed to its demise.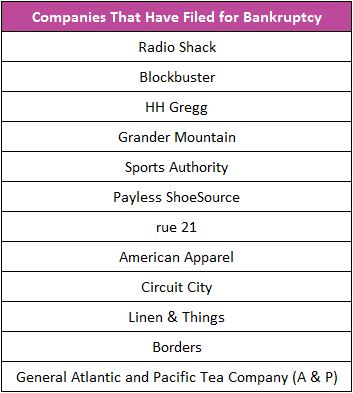 Toys "R" Us operates 1,640 stores in the US and 36 countries. Sadly,
The Wall Street Journal
reported that the company's sales decreased each fiscal year from 2012 where its sales equaled $13.91B to $11.54B in fiscal year 2017, when it lost $36 million. More distressing, sales have dropped every year, even though sales in the toy industry grew 5% in 2016 according to
NPD Group, Inc
.
In the 1990s, Toys "R" Us dominated many of the smaller toy retailers and controlled a large share of the market. Shoppers flocked to Toys "R" Us because it offered a wide variety of toys at discounted prices. Profits were high, and the future was bright. Today, giants like Wal-Mart, Target, and Amazon have returned the courtesy and taken market share from Toys "R" Us. The company has been unable to match the prices of the large discounters and has lagged in developing its e-commerce.
Last month the
Census Bureau
reported that e-commerce sales totaled 8.9% of retail sales in the second quarter of 2017. The graph below furnished by the Federal Reserve Bank of St. Louis, illustrates how US consumers are relying more on e-commerce.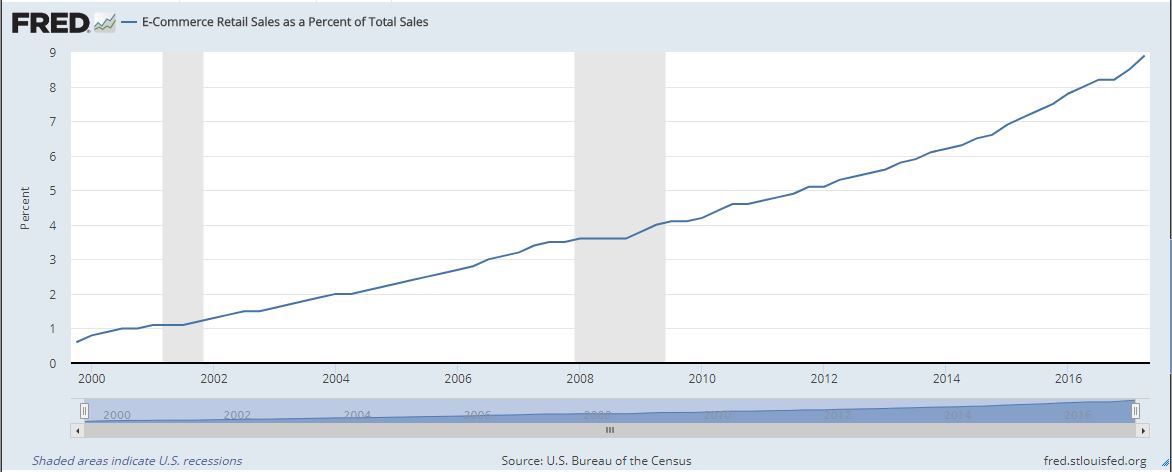 Source:
Federal Reserve Bank of St. Louis
Growth in on-line sales in the toy industry has exceeded the national average.
Fung Global Retail and Technology
reported, "14.7% of consumers say they go online to purchase toys versus 7.3% five years ago." Amazon has been the largest beneficiary, with a 24% increase in toy sales last year. Over 14% of parents reported that they shopped for toys on Amazon.
In 2005, Toys "R" Us was purchased by a private group including Vornado Realty Trust, Bain Capital, and KKR and Co. using a leveraged buy-out. A leveraged buyout is a strategy used by investors interested in acquiring a company, turning it around, and then selling it. The group borrowed over $6 billion for the $6.6B acquisition. An
initial public offering
was scheduled for 2010, but unfortunately, sales and earnings were inadequate to make the sale attractive to investors so the offering was postponed. Meanwhile, the annual debt service has restricted Toys "R" Us's cash flow, making it even more difficult to compete with discounters like Wal-Mart, Target, and Amazon. Now the debt is coming due! It owes over $5 billion and must make over a $400 million payment in 2018.
Meanwhile, suppliers like Hasbro Inc. and Mattel, Inc. are a bit nervous.
The Wall Street Journal
reported that Mattel is owed $135 million and Hasbro is owed $59 million. They need some assurance that they will be paid before sending Toys "R" Us any more toys. Remaining open during the holiday season is vitally important for Toys "R" Us because approximately 40% of annual sales are during the final three months of the year. Chapter 11 Bankruptcy protection is being used to enable Toys "R" Us to remain open and restructure its debts. Toys "R" Us has secured $3 billion in bankruptcy financing which it will use to satisfy its suppliers and stock their shelves so they can remain open at least through the holiday season.
Will Toys "R" Us survive, or is the new financing just a short-term fix to take advantage of the holiday season? Stay tuned!