The US Economy Continues to Improve
Figures released in December point towards a continued improvement in the US economy. There was real economic growth, an increase in personal income, a slight increase in unemployment with no alarm in inflation.
The US RGDP Increased 3.5% in 2016
Real gross domestic product (RGDP) is the most common measure of economic activity.
GDP
is the market value of all the goods and services manufactured in the country. The United States GDP currently equals $18.68 trillion.
RGDP
is adjusted for inflation. Growth during the third quarter was adjusted higher for the third time in December. On December 22nd, the Bureau of Economic Analysis (BEA) reported that the third quarter RGDP increased at an annual rate of 3.5%, or 0.3% higher than the 3.2% reported in November. This is 1.4% higher than in the second quarter. The main reason for the revision was that personal consumption and nonresidential investment were higher than initially calculated. Consumer spending was the most encouraging with an increase of 3.0%. There was also an increase in business investment and corporate profits. Visit
BEA GDP
to read the full report.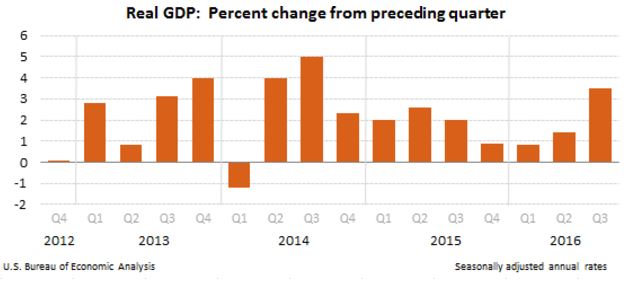 Personal Income grew in 2016
Personal income grew at less than 0.1%, or increased $1.6 billion, according to December 22nd's BEA report – but the disposable income decreased by $1.3 billion. Most of the increase was attributable to increases in interest and rental income. Unfortunately, salaries and wages decreased slightly. For a full report visit
BEA Personal Income
. I believe this trend will not continue because earlier today, the Bureau of Labor Statistics reported that the average wage increased $0.10 in December.
US Unemployment showed little change in December 2016
The unemployment report showed few changes in December. Unemployment rose from 4.6% to 4.7%. During 2016, unemployment fluctuated between a high of 5.0% in March, to a low of 4.6% in November. These figures are close to what economists call the natural or full-employment rate. Further reductions in unemployment could trigger inflation. The full-employment rate recognizes that some people are always seeking employment because they are moving or seeking another job.
2.2 million jobs were created in 2016, which is slightly lower than the 2.7 million in 2015. The average wage increased a surprising $0.10 in December to $26. This follows a $0.02 drop in November.
For the full report visit:
BLS – Employment Situation
Consumer Price Index highest in the past 2 years
Inflation continues to be tame, but the 1.7% jump in the
consumer price index
for the past 12 months is the highest in two years. In November, the index increased 0.2%. As in October, the largest increases were energy and shelter. The
core price index
, which excludes energy and food costs, increased 0.2% in November. This is up from 0.1% in October. Economists view the core index as a more accurate measure of inflation since it negates the volatile price fluctuations in the energy and food markets. To read the full report released on December 15th visit
Bureau of Labor Statistics - Inflation
. To learn more about inflation we encourage you to visit our lesson
Inflation
.
All our lessons are free and include text, at least one video, interactive exercises, review questions and a scripture lesson.
Please share this with any economics students or teachers you know who might be interested in staying current with the state of the US economy.