Inflation – June 2023
Inflation subsides to lowest levels in two years, providing relief for consumers.
The Federal Reserve's efforts to combat inflation are showing progress. Several inflation measures declined in June. The CPI dropped from its peak of 9.1% last June to 3%, marking the slowest pace since 2021. A significant factor in this decrease was the sharp fall in gasoline prices. However, even the core index, which excludes gasoline prices, has fallen from 6.6% to 4.8% since September. Despite these improvements, wage inflation remains a concern, likely prompting policymakers to raise the benchmark rate for the eleventh time since March 2022 during their upcoming meeting this week.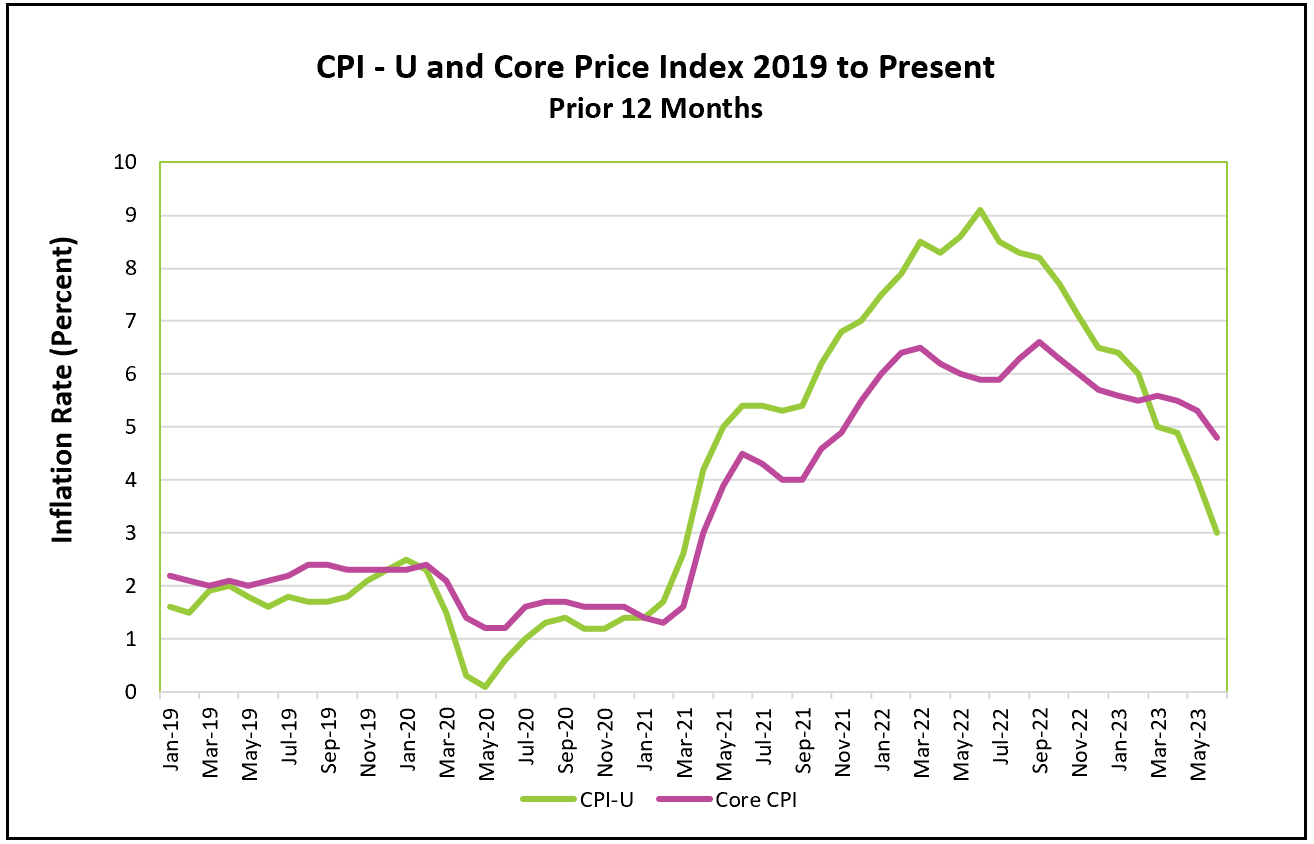 The highlights and analysis of the Bureau of Labor Statistics press release, Consumer Price Index – June 2023, are summarized below.
June's all-inclusive index rose 3.0% over the prior 12 months, the smallest increase since March 2021 and 1.0% less than in May.
Monthly price increases increased 0.2% in June, up from .01% in May, but significantly below 0.33, the average monthly increase since last June.
The 12-month core price index, which excludes food and energy prices, rose 4.8% in May after increasing 5.3% in May. It grew at the slowest pace since October 2021.
Prices, as measured by the monthly core index, only increased by 0.2%, the slowest pace since August 2021.
The shelter index rose 0.4% and accounted for over 70% of the monthly all-items increase. June's increase matched the lowest of the past year.
Food prices have increased modestly since March, only rising 0.1% in June. However, the food index gained 5.7% over the prior 12 months.
Gasoline prices rose 1.0% in June but are 26.5% lower than a year ago.
A year ago, the war in Ukraine caused gas and food prices to surge, with gas prices rising by 11.2% to over $5.00 a gallon and food prices gaining 1%. However, the world adapted, leading to a substantial 26.5% decrease in gasoline prices and stabilizing food prices. Yet, the possibility of global tensions reigniting remains a risk that could drive energy and food prices back up. Due to the volatility of energy and food prices, economists often rely on core indexes to gauge the overall price trend. The 12-month core index has only experienced a 1.8% drop, in stark contrast to the 6.1% decrease in the all-inclusive index from their respective peaks.
In June, several goods and services lowered the CPI, such as airline fares, new and used cars and trucks, household furnishings, and wireless communication. On the other hand, the cost of shelter, gasoline, motor vehicle insurance, and electricity were among the items that contributed the most to the CPI increase. The shelter index surged 0.8% at the beginning of the year but has since slowed. The index rose 0.4% in June, accounting for 70% of the increase in the all-inclusive CPI. Economists expect the shelter index to fall further. The government gauge incorporates existing leases, making the measure more of a lagging index than a leading one. Fortunately, there is evidence that rental rates have fallen in many regions. Zillow's index has been falling. It puts less weight on existing rents and measures changes in asking rents. Falling rental rates should help slow down the rise in the shelter index.
Auto insurance prices have increased by 16.9% compared to a year ago. Analysts attribute this to more accidents due to increased driving and higher costs of new and used cars.
Expect future decreases in the CPI to be less. As the CPI's peak was 12 months ago, next month's calculations for the preceding 12 months will start from a lower rate, likely leading to a less pronounced slowdown in inflation.
The US economy has shown resilience, with higher wages supporting increased consumer spending and higher prices. While most households have experienced an increase in real income, providing some relief from higher rents, food, and gasoline, higher wages also contribute to prolonged inflation as consumers gain more purchasing power. The Federal Reserve considers wage inflation crucial in curbing overall inflation. Wages grew 0.4% in June, up from 0.3% in May. Policymakers are closely monitoring indexes that emphasize labor-intensive services, such as the price of services excluding shelter, which increased by 0.2% in June after a 0.2% decline in May.
Policymakers will meet later this week to chart their monetary policy. While they paused rate hikes last month to evaluate their economic impact, June's encouraging CPI indicates that past rate hikes have cooled aggregate demand. Nevertheless, inflation remains significantly above their target of 2%, and wage growth continues to exert inflationary pressure. It is likely that they will increase the benchmark rate to 5.5%, the highest level in 22 years, but may pause at the following meeting if inflation continues to cool.
Following the FOMC meeting, the BEA will release its advance estimate for the second quarter. GDPNow predicts the economy will grow by 2.4%. Additionally, the BEA will release June's Personal Income and Outlays report, which will provide the PCE price index, the inflation measure favored by policymakers at the Federal Reserve. For a summary and analysis of these releases, visit HigherRockEducation.org shortly after their publication.