Inflation – March 2023
Moderating food and energy prices helped reduce the inflation rate to the lowest in almost two years.
Decelerating food and energy prices helped reduce the 12-month consumer price index (CPI) to 5.0%, a rate not reached since May 2021. Grocery and gasoline prices fell. However, the shelter index rose, but at a slower pace. Recent trends in prices, a softening of the labor market, and turmoil in the banking industry suggest policymakers at the Federal Reserve have reason to pause their aggressive rate hikes at their next policy-setting meeting, even though inflation remains above their 2% target.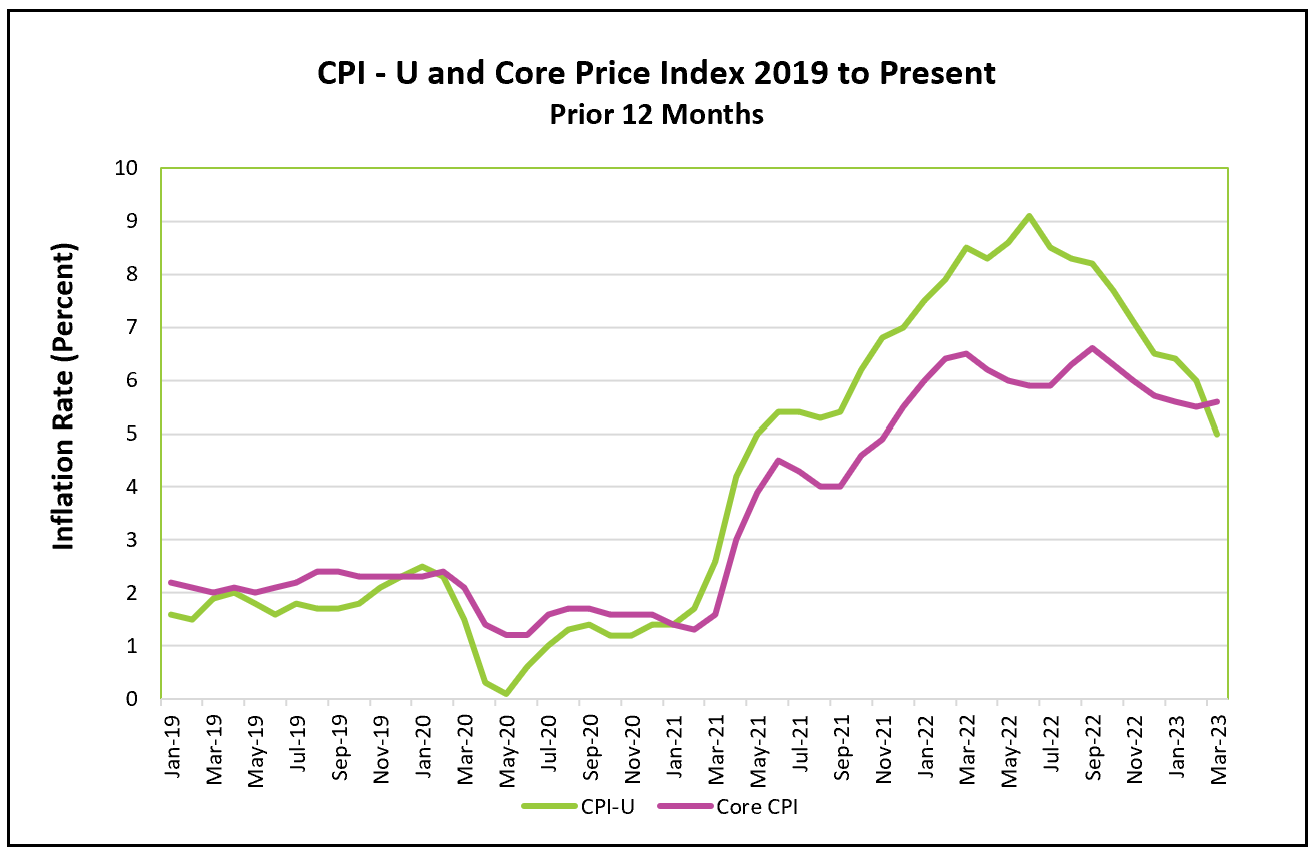 The highlights and analysis of the Bureau of Labor Statistics press release, Consumer Price Index – March 2023, are summarized below.
Price increases slowed from 0.4% in February to 0.1% in March.

March's core price index, which excludes food and energy, rose 0.4% after increasing 0.5% in February.

March's all-inclusive index rose 5.0% over the prior 12 months, the smallest increase since May 2021.

The 12-month core price index rose 5.6% in March after increasing 5.5% in February.

March's shelter index rose 0.6%, down from 0.8% in February. The shelter index remained the largest contributor to the monthly core index.

Food prices were flat in March. However, March's food prices were 8.5% higher than a year ago.

Gasoline prices fell 4.6% in March and are 17.4% lower than a year ago.
Escalating food prices have caused much hardship to many households since mid-2021. The 12-month index rose from 2.1% in May 2021 to 11.4% in August 2022. Prices have since decelerated. Grocery store prices declined 0.3% in March – the first price decrease since September 2020. However, dining-out costs continue to rise, up 0.6% in March. The graph below illustrates how quickly and much food prices have increased in the past two years.
Source: BLS Databases, Tables & Calculators by Subject
Energy prices, like food, are excluded from the core index, have also plummeted, bringing additional relief to households.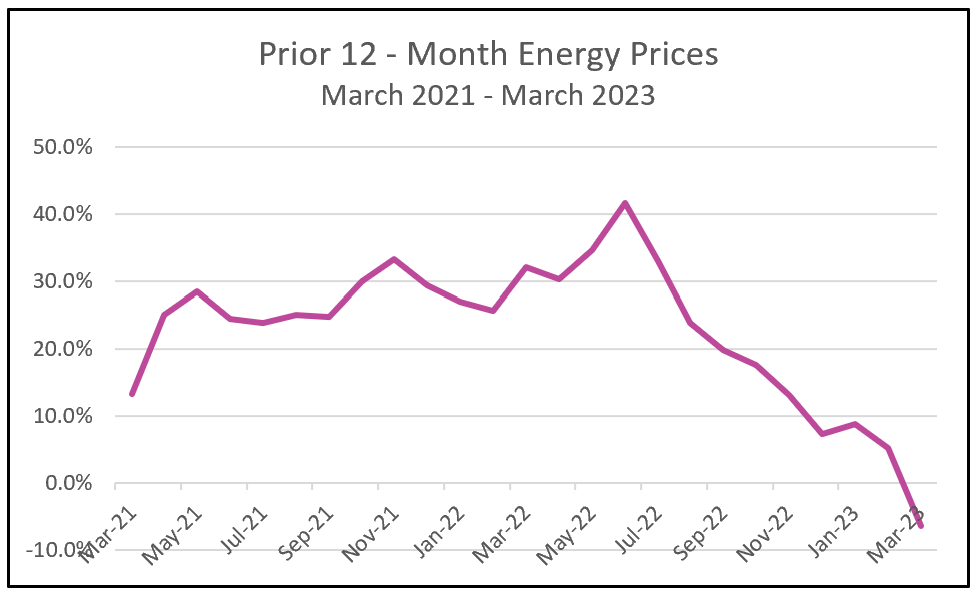 Source: BLS Databases, Tables & Calculators by Subject
Lower gasoline prices have helped slow inflation in the last 12 months since spiking to record levels following Russia's invasion of Ukraine. Gas prices are 17.4% lower than a year ago. However, electricity prices are up 10.2% from last March – but they have shown signs of cooling in the past few months and fell 0.6% in March. But, analysts expect gasoline prices to rise in the coming months following an OPEC Plus cutback in production of more than one million barrels a day. (Washington Post)
The shelter index rose 0.6% in March after increasing 0.8% last month, the smallest increase since November. It was the most significant contributor to the CPI because the shelter index comprises approximately one-third of the CPI index. The rental index rose 0.5%, down from 0.8% in February, and the smallest increase in a year. Most economists believe the CPI overstates rental trends when rents are falling because it includes a pool of rents, not just new rents.
Higher wages have fueled inflation. A pandemic-induced labor shortage has prodded employers to raise wages to attract and retain employees. Higher compensation helped finance the growth in consumer spending. Economists believe slowing wage appreciation is essential to cooling inflation - particularly in the service sector. Labor is frequently a company's largest expense, so managers raise prices to recapture some of their added costs. Recent trends suggest the labor market is cooling. (See our recent analysis US Employment Report – March 2023) These trends probably contributed to the deceleration of the services less energy services index from 0.6% to 0.4%.
The Federal Reserve's policymakers meet again in the first week of May to decide whether to continue applying the brakes to the economy by lifting its benchmark rate for a tenth time. Most analysts believe they will. I disagree. Inflation remains well above their 2.0% goal, but policymakers will choose to wait. It can take a year or more for rate hikes to filter throughout the economy. Lifting rates higher could cool the economy to the point it enters a recession. Inflation rates are trending lower. Furthermore, this inflation report does not reflect the impact of the collapse of Silicon Valley Bank and Signature Bank. Regional banks have lost deposits to larger banks. Banks may increase their reserves and make fewer loans. The effect would mimic the effect of hiking interest rates.
Is the US economy slowing down? Later this month, the Bureau of Economic Analysis will release two reports. On April 27th, The Gross Domestic Product, First Quarter 2023 (Advance Estimate), will address whether the economy has slowed. The second, Personal Income and Outlays – March 2022, will be released on April 28th and provide income and consumer spending data. Check back with HigherRockEducation.org shortly after their release for our summary and analysis.